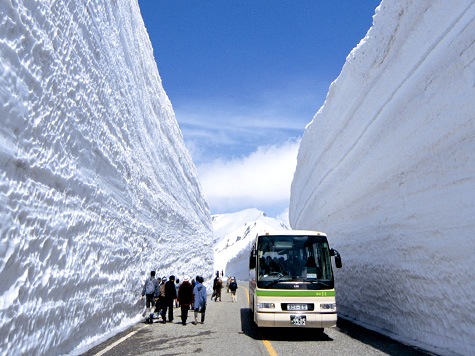 Nagano Tateyama Kurobe Snow Route near Hakuba.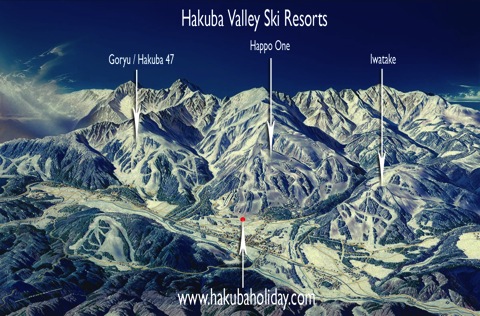 World class skiing and snowboarding just three and a half hours from Tokyo...

Set high in the heart of the Japanese Alps, amongst the rugged peaks of the Hakuba Valley, lays the resort town of Hakuba. Just three and a half hours from Tokyo, nestled amongst the three peaks of Mt Yarigatake (2903m), Shakushi (2812m) and Shirouma (2933m), Hakuba is a central hub for a dozen of the best Japanese ski resorts. There is something in Hakuba for everyone regardless of their level.
The Hakuba Valley averages over 10 meters of powder snow per season across more than 200 runs that contain some of Japan's longest vertical descents. Host to numerous events of the 1998 Winter Olympic Games, Hakuba is gaining international recognition and popularity. Short lift lines, excellent powder, long runs and great local culture are but a few of the factors that are putting Hakuba on the world map.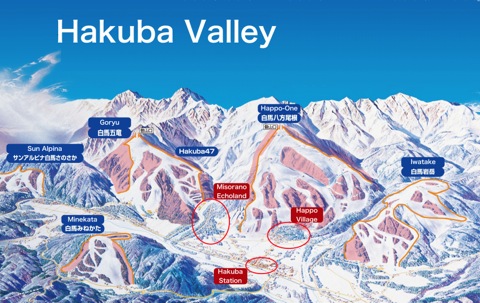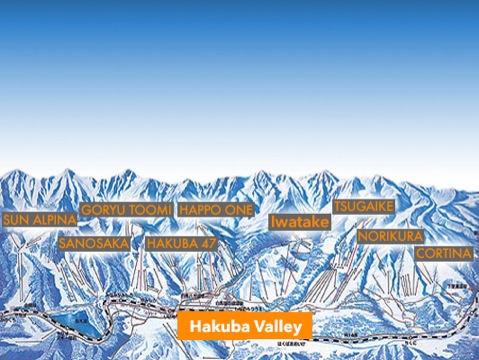 The resorts...

The Southern end of the Hakuba Valley contains the resorts of Hakuba 47, Goryu, Sun Alpina, Kashimayari, Blue Lake, Minekata, and the Olympic ski resort Happo-One (pronounced O-nay). The Northern end of the valley you find (amongst others) Iwatake, Tsugaike, Norikura, and Cortina all offering a variety of options for skiers and boarders. The valley and its variety of ski resorts take weeks to explore and with an annual snow fall of over 10 meters and over 800 acres of skiable areas, Hakuba is sure to impress.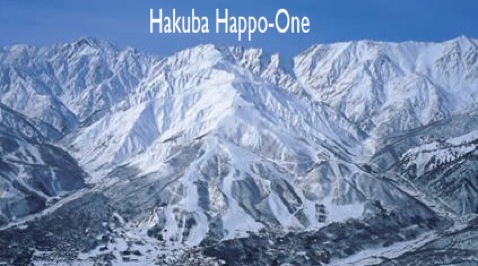 Our four bedroom house in Happo-One...

Hakuba Holiday's four bedroom rental ski house is located right at the entrance to the largest resort, Happo-One. Boasting some of the highest snowfalls and longest vertical pitches in all of Japan, Happo-One was the home to 1998 Winter Olympics and World Cup skiing events. Happo-One provides some of the best skiing on deep powder snow in Japan and due to its sheer height, some breathtaking scenery. It boasts an ideal location as well as magnificent panoramic views surrounded by 3000 meter high peaks. Happo-One is considered one of the best ski resorts in Japan due to its 8km long slope, 32 lifts and a mountain height of 1831 meters.
Some history on Hakuba...


As well as being a world class ski resort and Alpine enthusiasts destination for over 100 years, Hakuba's history has a more ancient past. Route 148 which is the main road running through the valley has an ancient name - "Shio no Michi" or "Salt Road". Although originally documented as being used to transport Jade over a thousand years ago, the Salt Road acted as a major trading route for goods, largely including salt. The salt and other goods were transported over many kilometers from the North of Japan through deep forests and over mountainous terrain ending up in Matsumoto City. Along the Salt Road visitors can still see the numerous ancient temples, shrines, statues and farmhouses. One can also find an abundance of natural hot springs along the salt road that help ease the weary travelers on their journey.