4 bedroom house location - Happo-One Mountain...


View Larger Map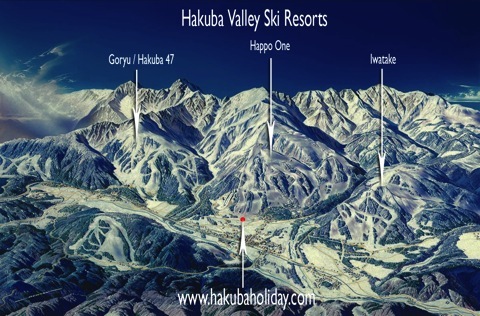 Superbly located, closest self contained rental house to Nakiyama lifts...

Hakuba Holiday's house is located in Happo Township - the very entrance to Happo-One ski resort. Located an easy 1-2minute flat walk from the Hakuba Happo Nakiyama lifts you can actually ski into the property on your way home. No need to bother with shuttle buses to get to the mountain or village, Hakuba Holiday's house is as close as you need to be. In fact, it is the closest self-catering family sized house for rent in the Happo-One area! Also, Nakiyama has great night skiing - right behind our house! Very near to the house are various hot spring baths, restaurants, bars, gift shops, ski/board gear rental shops and ski schools.
The house is located in the central Happo township and, again, no need to worry about navigating complex shuttle bus routes to get where you want to.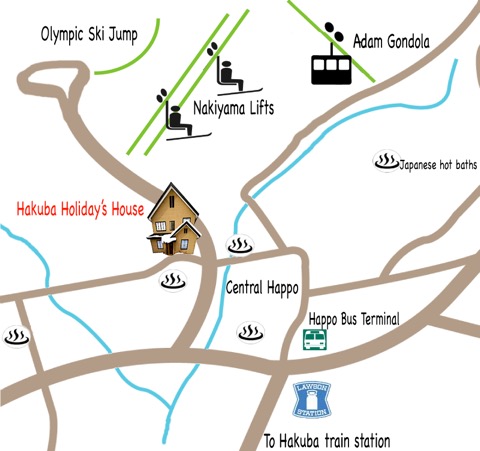 Easy access to ski lifts, restaurants, bars, gift shops, gear rental and supermarkets...

As you may know, Hakuba is a large valley with 11 ski resorts spread along it's length. All 11 of Hakuba's ski resorts are at least a couple of kilometers from Hakuba train stain and central Hakuba. Our house is situated in Happo township which is the entrance to the largest and main ski area in Hakuba - Happo One Mountain. The Nakiyama lifts are a stones throw from the house. Shuttle buses can get you to Hakuba Central within 10 minutes in winter where there are a number of supermarkets, banks, post office and other shops.
The Shuttle buses will also get you to nearby smaller resorts like Hakuba47 and Goryu. The shuttle bus services have been designed to connect most of the main areas in Hakuba. From our house, however, you need not use any shuttle buses to get to Happo One mountain, Happo Township or Echoland (lot's of restaurants and bars) - all are a short stroll away.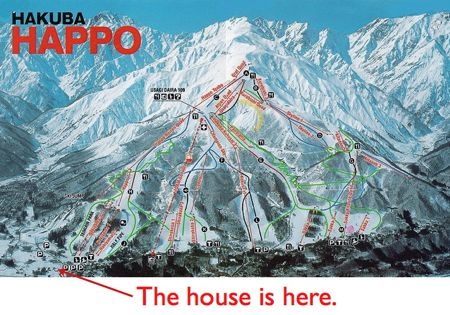 A short 150 or so meters stroll along a flat road the Nakiyama lifts.
Ski home to the property!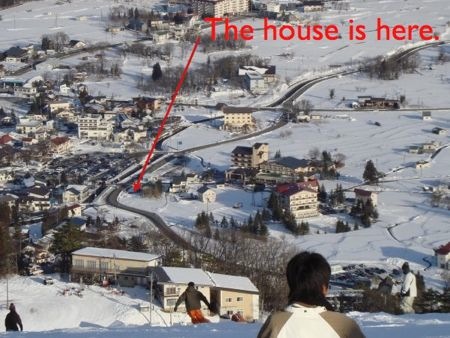 Hakuba Holiday's rental house is simply one of the best located and appointed self contained accommodation options in the Hakuba Happo